Nguyen Thien Phuc
Director of Product
Phuc has been involved in the travel industry since 1992, during which he has gained a comprehensive understanding of the cultures and customs of our clients' countries, in part due to his extensive travel. With a sound knowledge of tour programs in Indochina, Phuc is the ideal choice to lead the Product Department and manage both Vidotour own products and those specially tailored to your requirements. A keen linguist, Phuc is fluent in both English and French.
Doan Van Tuan
Director of Operation
Tuan joined Vidotour Ho Chi Minh City Office in early 2006 after working for over 7 years in the field as an Operations Manager. Equipped with a B.A. degree, open-mindedness, and a sociable personality, Tuan quickly establishes and maintains a good relationship with all suppliers and hotels, and colleagues in the head office. His diploma in Communications and Negotiation Skills issued by Kent College, Australia greatly help him complete his assignments. Currently, he is responsible for contracting activities at our head office and the main contact for daily tour operations in the southern part of Vietnam. Tuan was recently appointed as Director of Operations.
Nguyen Xuan Ky
Hue Branch office Manager
Ky trained as a teacher at Hue University before becoming a full-time tour guide with Vidotour. This job offered him an opportunity to better understand all parts of Vietnam. In 1998, he was promoted to Manager of our Hue office and handled all operational aspects of our business in central Vietnam. In June 2003, he completed the International Executive Development Program (IEDP) at the University of California, Riverside.
Tran Trong Dinh Khoi
Director of Sales
Khoi joined the company in 1996 as an operations executive. In 1998 he became our specialist for Laos and Cambodia. For several years, he has been holding the position of Sales Manager. Khoi was recently appointed as Director of Sales; this promotion is the result of his outstanding performance and great contribution to our success. In his new position, Khoi will be responsible for the overall operation of our Sales Department. From now on, he will be your key contact in Sales.
Hoang Xuan An
Human Resources Manager
An graduated from the Ho Chi Minh City Economics University with a degree in finance. He has more than 8 years of experience in accounting and finance. An joined Vidotour in 1999 and was promoted to the position of Assistant Chief Accountant in 2001. In 2003, after completing a professional course in human resource management, An was appointed as Human Resources Manager where he manages the company's recruitment, compensation and benefits, training and development, and other administrative affairs.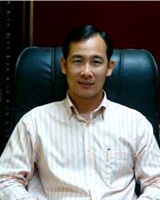 Vothy Rith Om
Cambodia Country Manager
Based in Phnom Penh, Vothy looks after our Cambodia operations including customer care and product development. He joined the travel industry in early 1998 and teamed up with us in 2000 to set up the Vidotour offices in Cambodia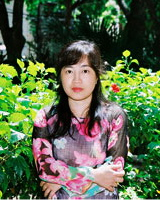 Dinh Thi Thu Huong
Hanoi office Director
Huong is a graduate of the Foreign Languages Faculty, at Hanoi University and has been with Vidotour since 1993. Besides being our Hanoi office manager, Huong was recently appointed as Branch Office Director.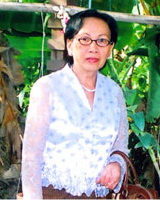 Kay Chantha
Siem Reap office Manager
Mrs. Kay Chantha used to be a French language teacher before joining Vidotour as Branch Office Manager at our Siem Reap Office in 2002. She is responsible for all operational aspects of the company in Siem Reap area. With her rich working experience and professional background, she has quickly established and maintained strong relationships with all the hotels and other suppliers of the assigned region. Chantha is fluent in both French and English.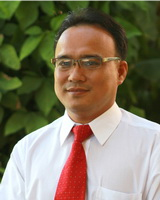 Nguyen Bao Chau
Assistant Director of Sales
Chau has been with Vidotour for more than 16 years. Besides assisting our DOS in supervising the Nordic market, Chau is a specialist for our Asia and Australasia markets. From tailor-made packages and programs to brochure itineraries, he is your reliable travel consultant.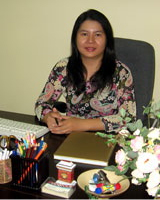 Tran Thi Thu Huong
Accounting Manager Hanoi
Huong joined Vidotour in 1991 after graduating from Hanoi Commercial University with a degree in finance and accounting. Huong began her career in the Reservations Department before being promoted to Accounting Manager, a position she has held for 20 years.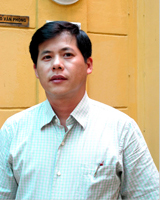 Nguyen Khac Le Thi
Product Manager
Thi joined Vidotour in 1992 as a tour guide. In 2009, he transferred to the Operations Department at the head office in Ho Chi Minh City. Starting in 2010, Thi began working in the Product Department and in mid-2011 he was promoted to Product Manager. Hailing from Can Tho, the largest city in the Mekong Delta, Thi studied English at Can Tho University and worked as a high school English teacher before joining the VIDOTOUR team. He has a passion for creating new, innovative, and responsible products and still occasionally goes out in the field as a tour guide.